Format
Dates
Length
Registration
Cost
Virtual
November 30 and December 1, 2, 8, 9
Five 3-hour sessions
Email: susanmorris@westat.com
Contact us for pricing
February 22, 23, 24 and March 2, 3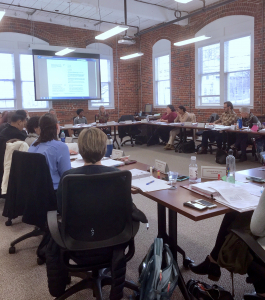 Course Description:
During the COVID-19 pandemic, the IPS Employment Center is offering the IPS Leadership Training online for up to 13 people. This highly interactive training allows participants to discuss issues related to implementation and sustainability of IPS in their areas.
Course Topics:
Strategies for IPS implementation
Effective IPS training methods
IPS fidelity reviews
Outcomes-based IPS supervision
Course Participants:
State, regional, or country leaders who will oversee IPS implementation and quality improvement, IPS trainers, IPS fidelity reviewers, and agency leaders with oversight for IPS programs.
Contact:
Susan.Morris@nyspi.columbia.edu